Electrical Installations Service Group offers maintenance, calibration and consulting services to our customers across New England. Started in 2009, the Service Group has made its mark by providing support to an array of customers looking for assistance in optimizing their current systems. Customers can choose different options for yearly, even monthly scheduled maintenance. These service contracts can be tailored to fit your needs. EII – Service Group has earned an excellent reputation for technical ability, customer service, and flexibility. Whether it is a scheduled visit, or last minute emergency, EII has earned a strong reputation for superior expertise and technical services. Our expertly trained and certified staff is a dependable, reliable resource for customers across the region.

A few of our services include:
Radio Telemetry support and repairs
Instrumentation repairs and calibrations
Fiber Optic Maintenance and troubleshooting
Report Generation
Electrical maintenance including MCC and VFD's
* EII is currently certified to offer startup and extended warranties for SquareD, Cutler-Hammer Eaton and Rockwell Automation VFD's *
Programmable Logic Controller programming and repairs
Existing SCADA and Control Systems upgrades and add-ons
Our primary focus is in Water/Wastewater, but EII has taken on many projects outside of that arena. Call our office today. Our service technicians are standing by ready to assist you.

Some of the other industrial areas that we service are:
Power Plants
Superfund Cleanup Sites
Hydro-Electric
Cement Batching Facilities
Chemical Manufacturing
Prototype Vehicle Controls
Automated Car Wash Facilities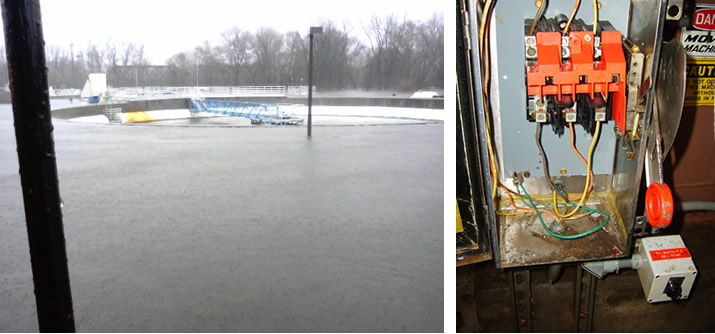 Town of West Warwick, RI

Emergency Wastewater Treatment Plant Repairs following unprecedented flooding on 3/30/10. Complete restoration of the treatment plant's control system involving repair or rebuilding of every component. EII immediately re-established communication between the plant, repeater and 8 pump stations by converting communication from lease-line to radio telemetry. Removed and rebuilt heavily damaged control panels and VFDs, recovered hard drive content from submerged computers and re-programmed plant SCADA system. Work among the facility's 15 buildings progressed for more than a year, completion 5/2011.